Garage Heaters
There are so many months of the year where we cannot fully utilize our garages because it's too cold. Solve that problem with a reliable, long-lasting unit heater that's ready to turn your garage into usable space all winter long.
Why would I get one?
No remote start? No problem! When you have your vehicles parked in a climate controlled garage, even on those days you dread going out... Your vehicle will be warmed and will heat up even quicker when you start driving it.
Longer battery life! It's not good for 12v batteries to be out in the cold. By keeping your vehicle in a climate controlled garage, you are helping your battery last longer.
Warm cars run better. Starting a vehicle in the cold is not only trouble, it runs less efficiently wasting fuel (and your money). EVs with warmer batteries also perform better and can use regenerative breaking more efficiently.
They are less than you'd think. Our reznor units are fully installed starting under $4,000 for everything. That's gas line, electrical, rigging, venting, and thermostat.
Snow falls right off of the vehicle! In the winter we recommend setting it just above freezing, and you'll watch the snow just fall right off your vehicle. It's great for melting snow off of your snow blower so it won't ice up and break the shear pin.
Have a workshop? So many of us have our tools in the garage. Now you can work on things in the winter without hesitation. You can heat pump the garage in 10-20 minutes.
Use it as you wish. Some customers keep theirs warmer, but we also have ones that will keep it just above freezing and boost it up while doing work. You have true flexibility!
Dread leaving after a snow storm? Knowing you have a warm vehicle in the garage ready to go really is nice, trust us!
Flex Space! How many times did you wish you could do something in the garage in the winter, but it's too dang cold? A heater lets you use your garage as flex space. Quite handy!
Thermostat Controlled
You can adjust the temperature as needed with the included Pro1 771 Low Temperature Thermostat. You can set your garage as low as 25F!

Financing Options
We offer financing options through Greensky that makes the purchase easier to budget. Reznor unit heaters qualify for a "No Interest if paid in full in 6 Months" and a "10 Years at 9.99% APR".
Reznor Heaters
We have been working with unit heaters for several decades. It is important to us that we find a brand we trust and has good warranties and has servicable parts that we can get from multiple suppliers if needed (so that you're taken care of). Reznor is the brand we arrived at. We have been putting them in for years now and we are more than satisfied with the product design and function.

Reznor UDX Spec Sheet Reznor UDZ Spec Sheet
What do they look like?
Our goal is to install garage heaters in the corner and up in the air. You'll see some of our jobs below. All jobs now are done using Quick Sling, which puts your unit heater even closer to the ceiling out of the way of people.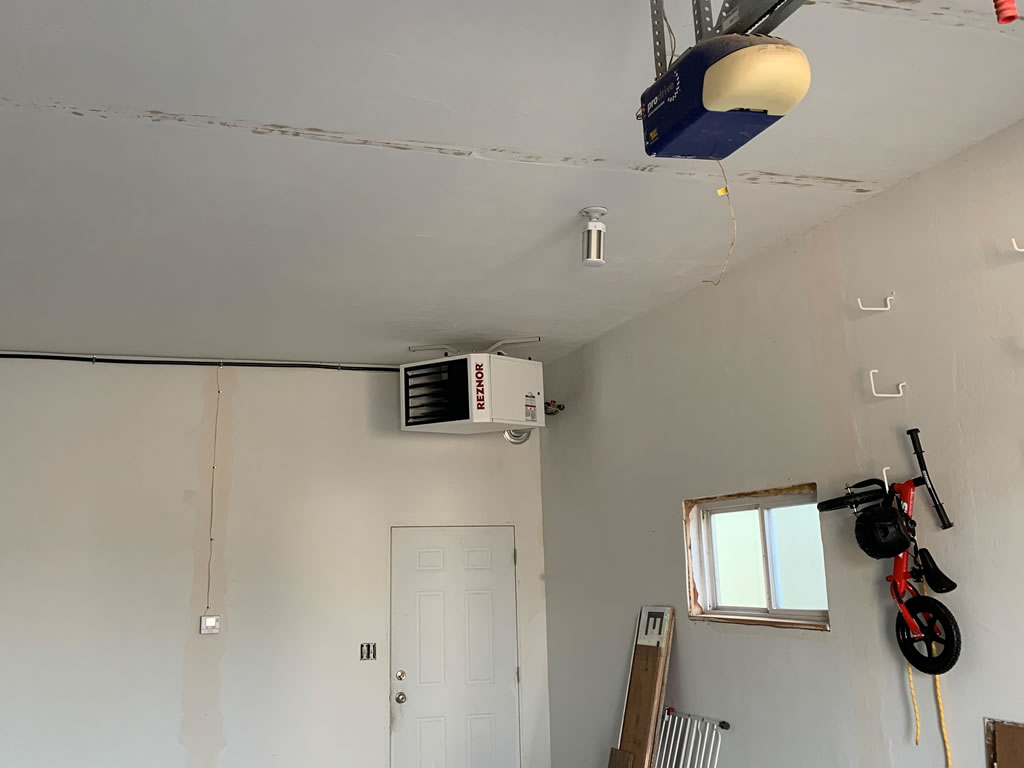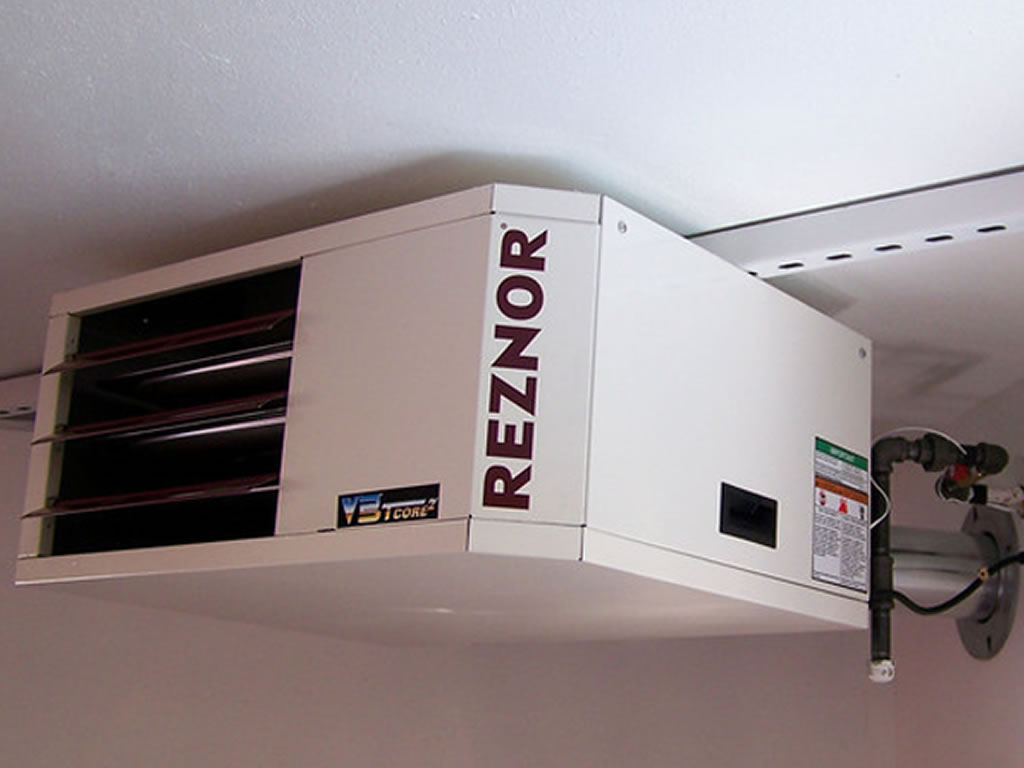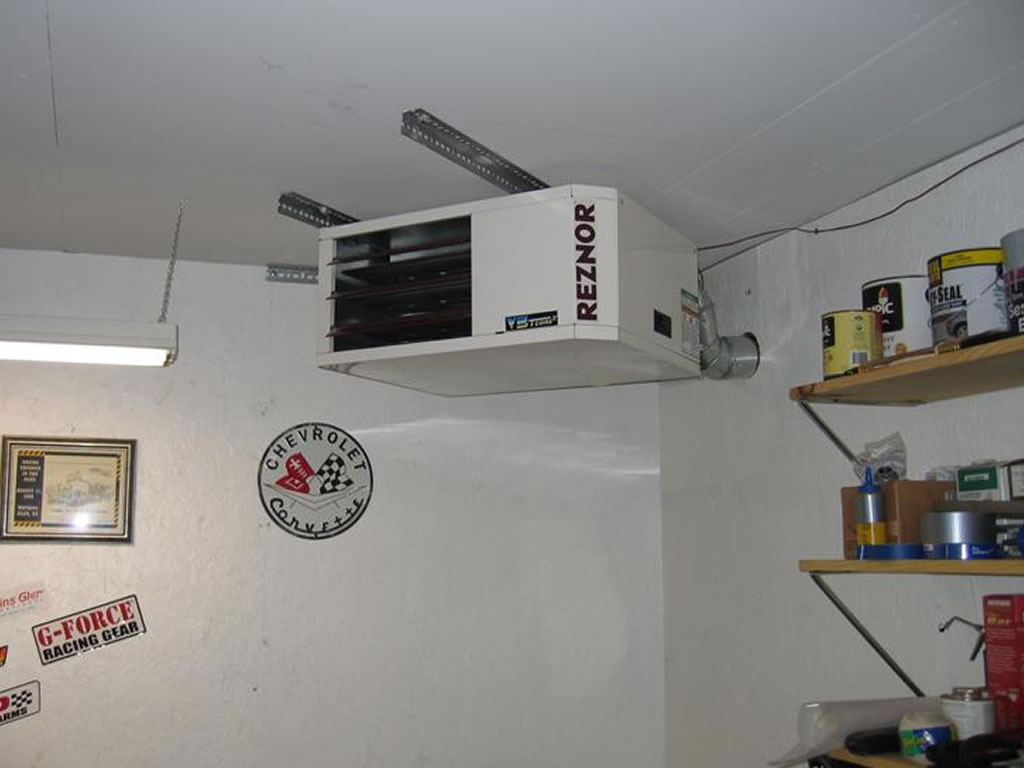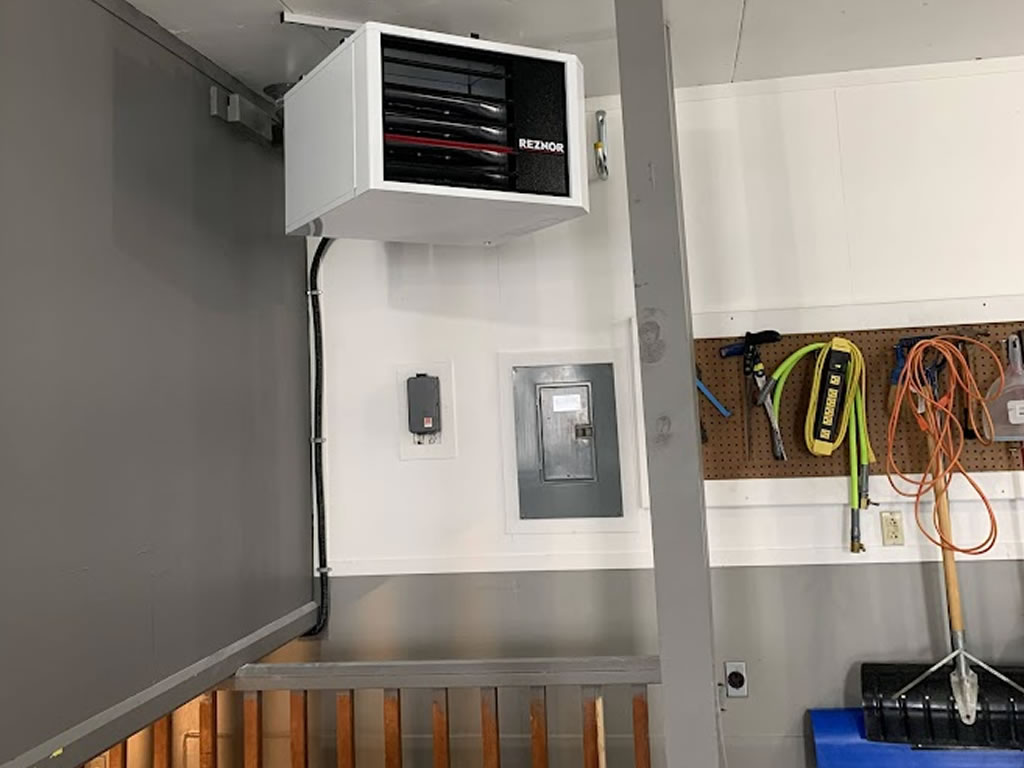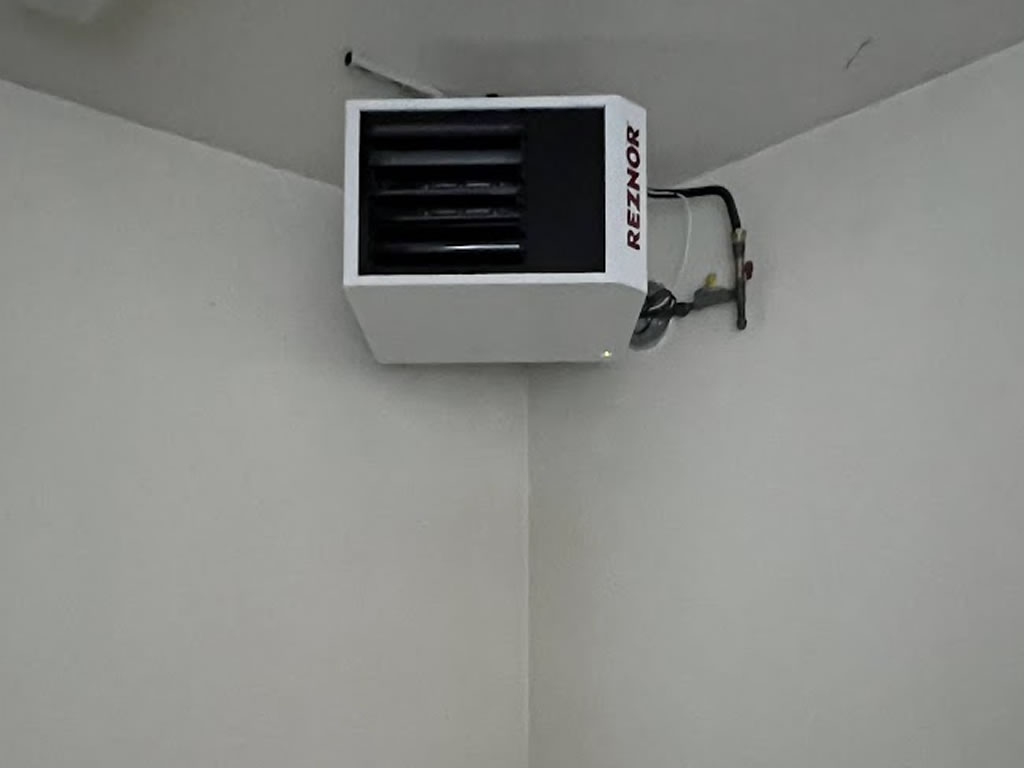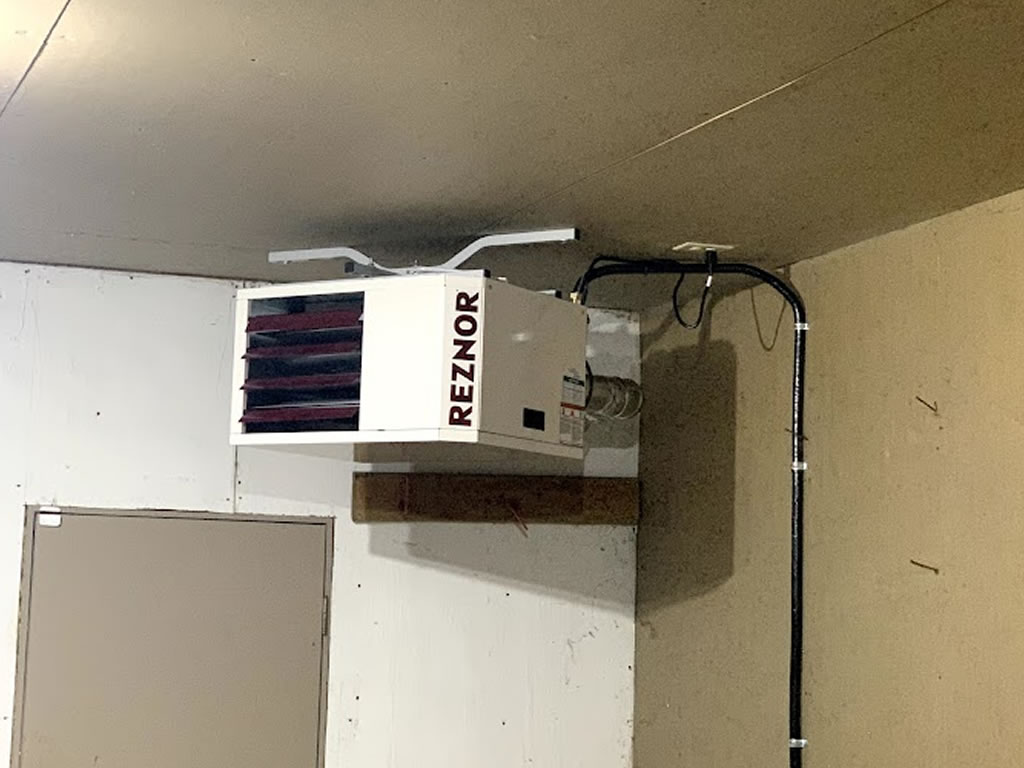 Installation & Costs
Installation can vary for each home. It will depend on the method we need to vent. We aim to side vent so that there are no leaking potential on the roof. Installation for the UDX series starts under $4,000 for a complete job (venting, gas lines, electrical, ceiling mounting kit, and more). If there is more complex venting or a larger unit required the price will go up from there. A UDZ series is significantly more expensive as there is more complex venting and the unit itself costs more. In most applications a UDX series will work fine, but there are applications where we may be recommending the UDZ series.
Book your Free Estimate Online