Whole Home Humidifiers
Since 1954, Aprilaire has been producing whole home effective humidifiers for homes. Over the years they have been making it easier for consumers to operate. Humidifiers we install now feature an automatic control, which means you set it to a comfort number and it will follow a humidity level depending on the outdoor temperature.
When the air gets colder outside, you cannot put as much humidity into the air or you will have it condensing on your windows. The automatic control helps keep this in check for you. Replacement of the water pad is recommended yearly (or twice per heating season if you're on hard water like kaukauna).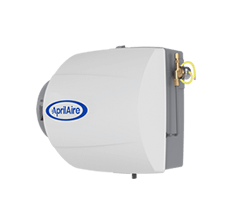 500 Series Automatic
Installed Price: $695
Bypass Style Humidifier
Up to 12 Gallons per day
Auto-adjusts to conditions
Great for homes < 2,000 sqft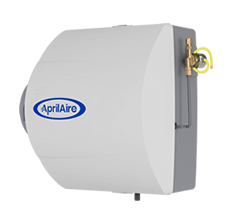 600 Series Automatic
Installed Price: $795
Bypass Style Humidifier
Up to 17 Gallons per day
Auto-adjusts to conditions
Great for homes < 3,000 sqft
Why is proper humidity important?
Most importantly, proper humidity levels in both the summer and winter are important to your overall health. In the winter it is crucial to keep your humidity in a proper range. If your home gets too dry you run into problems like...
Catching more illnesses: Dry houses will dry up your membrane in your nose lowering your defences. This is a big contributor to why illnesses spread quicker in the winter, along with poor indoor air filtration.
Static Shocks: dry homes will cause static electricity to generate. If you're getting shocked from everything around the house, the chances are your humidity is too low.
Dry Skin: While it is going to happen due to us going outside and not being in our homes 24/7, having proper humidity in the home really does help keep your skin more hydrated.
Cracking Woodwork: If your home is too dry it will start to damage woodwork around the home, and can cause cracking.
Feeling Warmer: Dry homes make you feel colder, adding humidity allows you to feel comfortable at lower temperatures, saving money on your utility bills.
What does "Automatic" mean?
An automatic control allows you to set it to a comfort number, instead of a specific humidity level, and the control checks outdoor temperature and adjusts the humidity accordingly. On a manual control you would have to adjust the humidity setting as it got warmer and colder, the automatic control adjusts for you so you don't get moisture on the windows and doors as badly.
Automatic controls are installed on the duct work in the basement and not up by the main thermostat like older models, due to a humidity probe on the backside of the control. The control follows a chart.
What maintenance is required?
Modern aprilaire humidifiers are designed to be service friendly. Depending on how hard your water is you should replace your Water Panel once or twice per season. The Water Panel is the pad that the water drips slowly over and down where the hot air evaporates it into the air. As a lot of water runs down it, it can build up with calcium and start to disolve from hard water. If you're new to a humidifier, check it mid winter and see how the Water Panel is holding up.
Changing the Water Panel
Resetting the Flashing Change Water Panel Yellow Light
At the control, turn the unit all the way past the labelled numbers. You will turn it into "Test mode". You should see the green light come on. After a few seconds you will see the green light start to blink, at the same time the yellow light should stop blinking. You can now return the dial to the number you had it set at.