Amana S-Series Air Conditioner / Heat Pump
After years in development, Amana now has their S-Series Air Conditioner & Heat Pump available! This new product line is a sign of things to come. There have been significant changes to how this central air conditioner operates compared to the older style cube units we have been working with since the 40s.
Next Generation A/C Technology
The Amana S-Series is a smart, communicating system. This means all parts of your Heating & Cooling system are working together and communicating what they are doing. This allows your equipment to do more advanced things, and allow your thermostat to give you more information than you have ever seen. Combine this with an inverter compressor, and you have outstanding efficiencies and quiet operation like you have NEVER SEEN in a central air conditioner.

Slim Design
Traditional air conditioning units started off relatively small from the 1960s as efficiency was not a primary reason behind their design. As time went on, engineers learned how to get even more cooling with less electricity. Traditional designs became bigger for more surface area. While the invention of micro-channel coils helped shrink sizing, the real amazing designs were coming from mini-split manufacturers.
Amana has been working on building a refined unit, that is up to 4x smaller of a footprint than their high efficiency traditional air conditioners.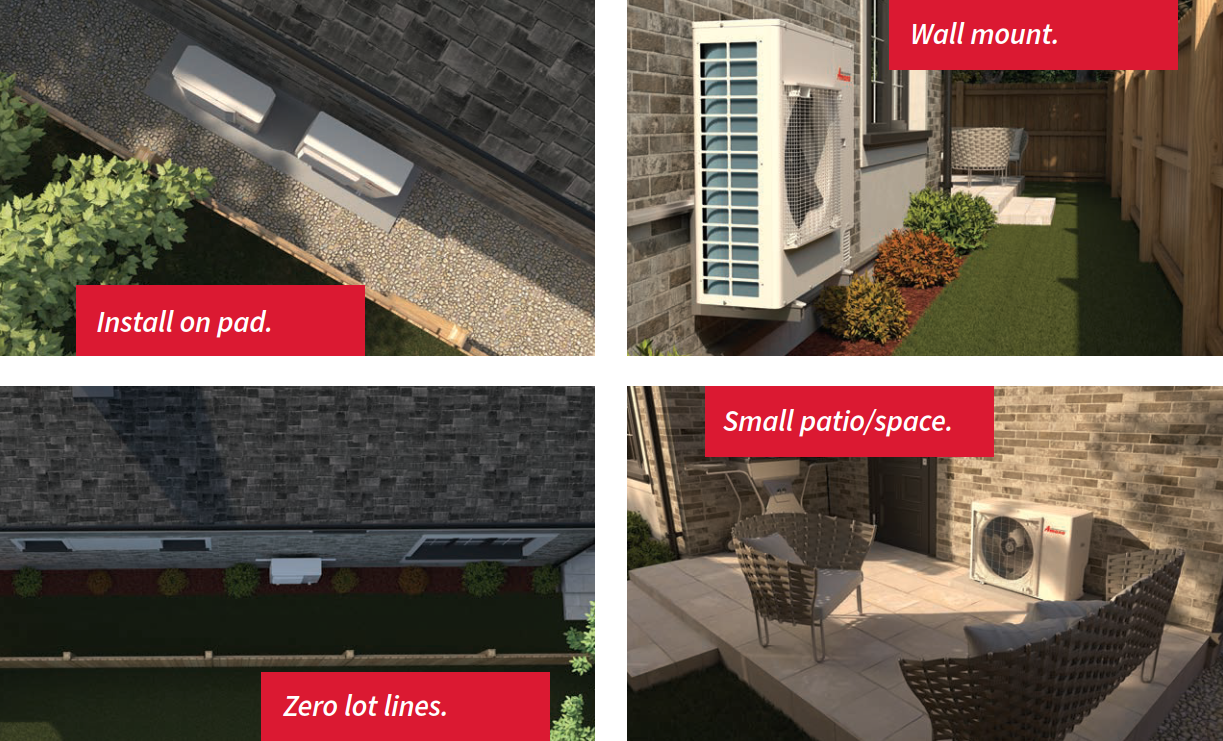 Smart Communication
One thing that has plagued our industry is how companies stick to standards from decades ago. The truth is, without communication you are not going to get to ultra efficient ratings. Amana took the time to develop a communicating system that has great promise and will be a great asset on all upcoming models, starting with the S-Series.
Your Air Conditioner now talks to your air conditioner coil and to your furnace, and to your thermostat. They all can communicate two ways to do new things you couldn't do with traditional wiring, like running your furnace while the heat pump defrosts. The required (and included in the install price) thermostat allows you to remotely control your equipment, get alerts, and see more than you ever could with your old battery thermostat.
Sound? What Sound?
This is what makes us so excited to be offering the S-Series here at The Good Guys Heating & Cooling... The quiet operation is really amazing! We all know that traditional air conditioner starting up sound, as well as the old air conditioner dimming all the lights as the fan and compressor starts spinning. The S-Series is inverter driven which means your system will start off slow and wind up to the speed required. The idea with the S-Series is to run as long as possible while maintaining temperature. This means you get even more dehumidification and more comfortable air.
With this unit being quieter that means putting it on a deck or right outside a window is less of a worry. Not only will it take less space, it's also much quieter as low as 53db(A). That's the volume of a household refrigerator!
Savings you'll love!
Who doesn't love to save money?! The S-Series is designed with an outstanding efficiency rating of 17.2 SEER2 (18 SEER). By utilizing an inverter powered compressor, you no longer just have an on and off system. You have an Air Conditioner that is adjusting its speed to exactly what your space needs. By dialing everything in you are hitting efficiencies that used to cost much more with the older models. Comparible models can be $9-12k for Inverter and 18+ SEER rating, and you can get yours starting in the $7k range.
Heat Pump Option!
If you're looking to heat your home in milder weather, the S-Series is available as a heat pump for an additional cost. A heat pump is an Air Conditioner that can reverse, and put the heat energy into your home when you want to heat. This modern design allows you to get reliable heat down to a reasonably low temperature. We strongly recommend a backup source of heat like Natural Gas (if available) or Liquid Propane as repairing heat pumps in the winter is not always possible.