Indoor Air Quality Maintenance
Many of us have additional products attached to our Heating & Cooling systems... there are parts that you can maintain yourself and save yourself some money. This page covers some common replacement and resetting processes for common equipment in our area.
Humidifier Water Pad Replacement
One of the best selling brands out there for Humidifiers is Aprilaire. They are the name that really brought whole home humidification into homes several decades ago. Their design has mostly stayed the same in the past 30 years, but there are differences between units. These maintenance guides will be speaking to the current models 500 & 600. You will find even older models may be surprisingly close.
This video discusses the steps in changing out a water panel on the Aprilaire 400, 500, and 600 series humidifiers. Very rarely does a humidifier need a "maintenance kit" mentioned in this video, but if you would like, we can order this part for you.
On the model 700, which is for larger homes (3000sqft+), the process has a few key differences. Very rarely does a humidifier need a "maintenance kit" mentioned in this video, but if you would like, we can order this part for you.
Resetting the Change Waterpanel
One of the top calls we get is that the Aprilaire Humidifier controller is flashing a yellow/orange "Change Water Panel". This is only a reminder light and does not affect the operation of your humidifier. You can reset it at any time to start the internal timer over again.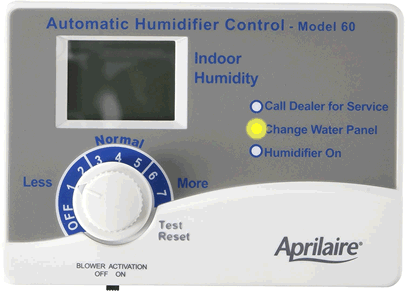 The process is quite simple:
Make a mental note of what the current humidifier setting is at (which number).
Turn the knob into "test/reset" which is located past the 7 on the control. You will feel a slight resistance as you go past 7, into test mode.
Leave it there for 5+ seconds until you see the green "Humidifier On" light start to blink. The blinking means the reset has completed.
Bring the dial back to the setting you had it at before. Boom, done!
Changing an Aprilaire/Spacegard 201 Classic Filter
The spacegard filter cabinet was a staple for many-many years in our area. The filter cabinet itself is a rock-solid unit. The filters, while being one of the best for the amount of surface area, are disliked by customers for how complicated they are. That being said, those who have them should be happy knowing they have a good solid filter rack.
One problem as these units age is the plastic clips on the combs start to break off making it harder to keep the filter held together. If yours is breaking apart, stop into our showroom. we carry the 1213 upgrade kit to adapt Aprilaire's new 213 filters in the older box. New filters are much easier to install, they are thinner, but have a thicker 3D surface-area, as well as a 13 MERV rating over the older 10 MERV rating.
If you're stuck on trying to replace the 201 filter, check out this helpful video from "The HVAC Hacker".
Upgrading your Spacegard to support modern filters.
If you have a 2200 or 2400 spacegard air cleaner and the plastic clips are breaking off making it an even bigger pain to change the filter... or you're just plain tired of dealing with the process of changing the spacegard filter... there is GOOD NEWS!
Aprilaire discontinued the spacegard media air cleaners and now produce a nicer sleaker filter cabinet, which much easier to change filters that come pre-glued. No more spacers, and more frustrations. They are more efficient and have a thicker material allowing an improved 3rd dimension to catch more particulate. Normally this kit costs $50-60, but if you stop into our showroom and buy a 213 or 413 filter, you can get the upgrade kit free.
Important Note: The 213 and 413 filter do not have good third party versions anymore. There are ones that are "compatible" but they are really frustrating and poor quality from what we have seen. If you're going to upgrade your system, you will be limited to where you can buy the filters. Any contractor with a showroom should have these filters for sale (like us), as well as online places like Amazon. You will not find these most likely at any big box retailer. Aprilaire has always been about selling their products to contractors, not retailers.